A multi-modal distribution park, strategically located next to the electrified West Coast Main Line (WCML) and major road networks. The only freight location in Scotland with rail connections north, south, east and west.
MIRP provides direct and easy access to the major UK ports, the Channel Tunnel and other UK and Scottish freight interchanges.
We are at an advanced application stage for the EU-certified standard authorisation, AEO status, to prepare the site for changing trade conditions as a result of Brexit.
Estimated transit time to/from Mossend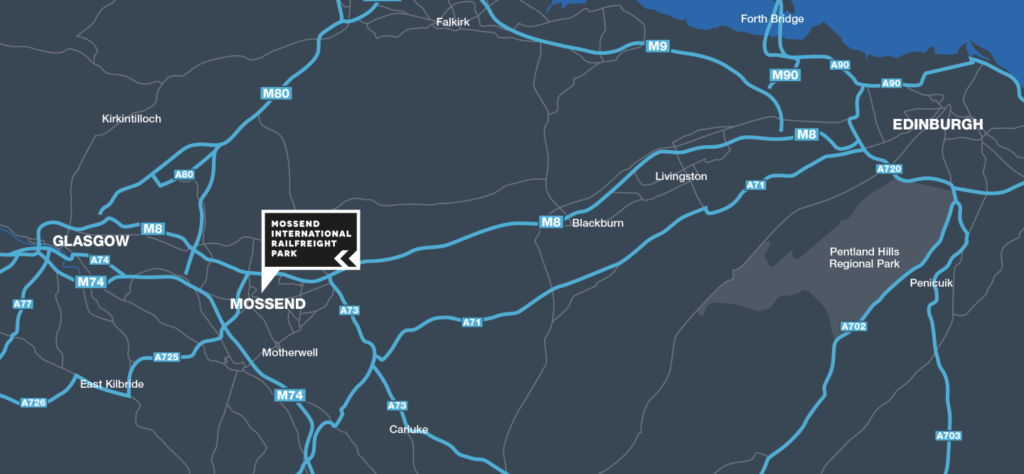 Rail freight terminal
A 21st century, strategic rail freight facility offering Scotland's only 775m international freight terminal providing for rail logistics companies in key international growth sectors (retail distribution / automotive / e-commerce / food and drinks sector / specialist logistics)
Maximum UK train length capacity at 775m
8 x 800m (2,623 ft) sidings
Wagon repair and maintenance facility
Head-shunt and refuge siding
Handling 24 trains per day
Channel Tunnel (SACTFF) approved security facility for international movements
5,000 TEUs storage capacity
Fully equipped IMO Dangerous Goods facility
Electric internal movement vehicles
The facility is designed and equipped for rapid growth offering a facility for the longest freight trains to and from Scotland. MIRP will double intermodal train handling capacity for the Scottish market.