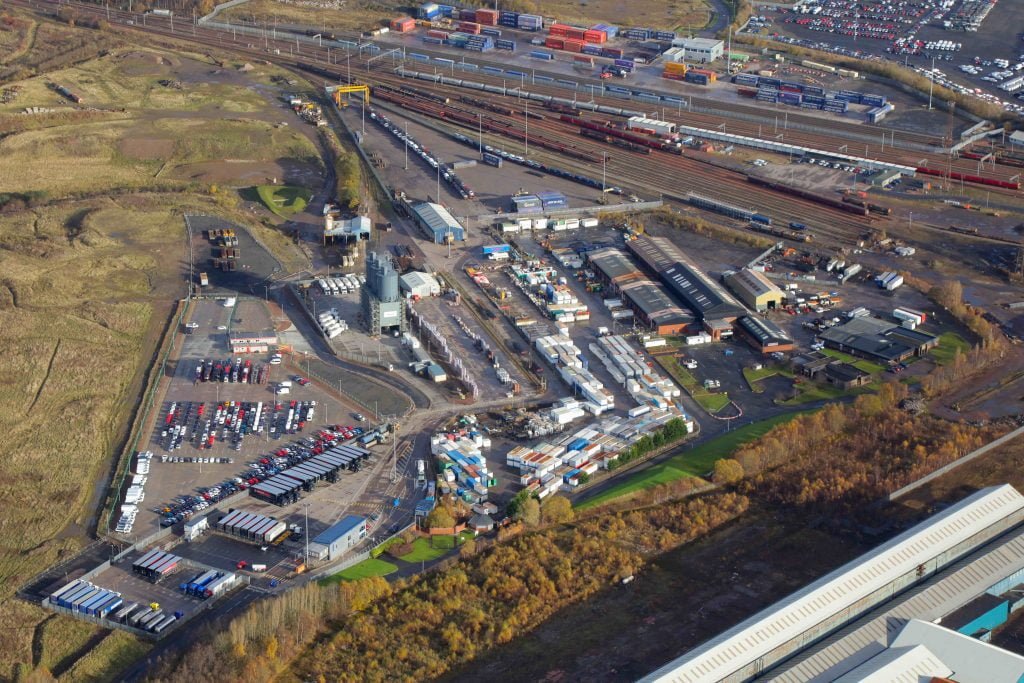 Plans have been submitted for Phase 1 of Mossend International Railfreight Park in North Lanarkshire, a new inland multi-modal logistics 'port' located in the heart of Scotland.
The £260 million development will greatly expand the already established rail logistics operation at Mossend to provide a further 2.2 million sq ft (200,000 sq m) of low carbon, 24/7 distribution, logistics and manufacturing space for businesses across the UK and beyond. It will also deliver eight new 775-metre international standard railway sidings, enabling the rail freight terminal to handle up to 16 freight trains per day.
The Phase 1 Application covers the layout of the rail terminal, Scotland's newest Strategic Railfreight Interchange, as well as a new access road to the north of the site, including a new bridge across the M8 already constructed. The main access road, which will remove long-distance HGV traffic from the Scottish road network within Bellshill improving the safety and environment for residents, will be constructed and brought into use in 2022.
Applications for later phases, which include engineering works for site preparation and infrastructure, industrial and distribution use including site access, as well as site platforming, utilities and landscaping, are expected to be submitted in the first half of 2021. The site is expected to become fully operational in 2024.
The site was originally granted planning permission in 2017 for the development of the new rail facilities and associated warehousing. The development accords with the Local Development Plan, creating additional railfreight capacity and freight park facilities at the northern limit of the W10 loading gauge, capable of conveying deep sea containers 2.9 m (9 ft 6 in) high.
David Stirling, PDS, said: "We are pleased to see Scotland's newest inland multi-modal logistics park advance to the next stage with this planning application. Once complete, businesses will have access to a reliable, sustainable, zero-carbon and cost-effective transport solution that reaches 77 per cent of the Scottish population within a 50 mile radius and provides access excellent transport networks across the UK and internationally across road, rail and sea.
"The local community will also benefit, with quality jobs and inclusive new employment opportunities that this multi-million-pound investment has the potential to generate and with an area woodland and green space for all to enjoy."